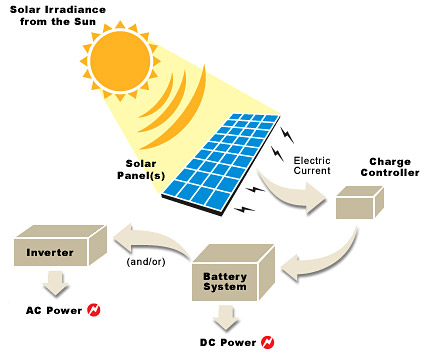 Here at Three Rivers we have been utilizing energy from the sun as a source of power for more than 20 years. The public is becoming more informed on alternative energy choices and with the recent energy crunch, these alternate energy sources have been brought to the fore front of most people's mind (even the politicians). Since we live "off the grid" here, we have been forced to seek out options such as: generators, wind, and, of course, solar. Because Central Oregon has the same amount of "solar exposure" as Phoenix, Arizona, the solar is a perfect fit.

The example shown above is a simplified version of what happens when the sun's energy is captured through a solar panel and directed into a charge controller. The energy can then be stored in a battery for direct "DC" power OR pushed through an inverter to create "AC" power. Seems simple enough, and it is. Whether you have one solar panel storing energy in one small battery for your RV OR 10 panels and 32 deep cycle batteries to power a 6,000+ sq. ft. home, the resources are available to you.

The New York Times wrote of Three Rivers in an August 2009 edition: "In the beginning people just pitched tents or parked their pickups on lots down beside the lake---it was a place for working men to come and 'let their hair down'. Eventually rough cabins started replacing the tents and trailers, but one problem remained: no power, water or telephone service for miles around. Most buyers were of modest means but significant ingenuity, so there was a period of experimentation in power sources, from windmills to simple generators to modified automotive parts...the "green" aspect of Three Rivers came about more by necessity than intention. Three decades later, off-the-grid vacation homes have become practical for those not inclined to tinker and jury-rig car parts or shower under empty coffee cans. And in today's atmosphere of climbing energy costs and concerns about global warming...what once was obstacle in now amenity."


The Bend Bulletin was quoted in September of '06 as saying:"...off the grid is easy living for the residents of Three Rivers Rec Area---no electricity, no problem! One full time resident commented, 'You have no idea how bright the stars are. No sirens, no trains, I would not live anywhere else.' "


Recently, in an article published by the Associated Press was circulated nation-wide which stated: "...before power lines, homesteaders had no choice...they lit their lanterns, stoked their fires and packed away winter ice against sizzling summers. Owners in the Three Rivers community are among a growing number of Americans who shun power lines, choosing to live 'off-the-grid,' without commercial power. Everyone in Three Rivers gets most of their power from dark solar panels on their rooftops or on nearby freestanding structures positioned to more effectively capture the sun. Some supplement it with windmill generators. Solar power easily handles their computers, lights, large-screen T.V.s, microwaves, refrigerator/freezers, and more. Off-the-grid living is edging into the American mainstream. It isn't there yet, but about 180,000 homes, mostly in the West, operate on it. Off-the-grid residents have a guaranteed power supply at a time when the emphasis on "clean" energy is on the rise. Solar energy uses no resources to speak of, emits no pollution and is immune to energy price hikes...still living off the grid isn't cheap. Nonetheless, the number of people going off-the-grid increases by about a third each year, said Robert Perez, who publishes Home Power magazine, dedicated to the topic, and Lori Ryker, who has written two books on the subject. National demand is soaring and the off-the-grid movement is yet to be felt in a significant way by the power industry, dais Jim Owen of the Edison Energy Institute in Washington D.C.. Much growth in California, Texas, New Jersey, and Wisconsin..."

Bend Bulletin reported again in May '07: "Owners of about 250 homes in the Three Rivers community on Lake Billy Chinook are far from homesteading or camping out. They are among a growing number of Americans (about 180,000) who shun power lines, choosing to live off-the-grid without commercial power. Off-the-grid residents have a guaranteed power supply at a time when the emphasis on "clean" energy is on the rise."

So if your goal is to achieve a comfortable living space (whether it be your primary residence or a second home/cabin/campsite) while living greener and leaving a smaller carbon foot print on the earth, then consider investing in the Three Rivers Experience and "Go Green With Solar"